---


Part of NewFormat AB Portal
---


---
OpenFormat
Products and Services
Offerings / Promotions / Prices
Guides and Datasheets
---
Customer Contact Form
Home/NewFormat
---

CommonLook
PDF Accessibility: Problem Solved

Solutions for Compliance with Accessibility Standards:
ISO 14289-1 (PDF/UA),
W3C/WCAG 2.0/2.1,
U.S. Section 508 and U.S. HHS
Our solutions are based on
tested, reliable, and highly accessible software solutions.
NewFormat is Appointed Reseller and Solution Partner in
Nordic (Sweden, Denmark, Finland, Iceland, Norway)
and
Baltic Region (Estonia, Latvia, Lithuania)
of leading CommonLook PDF technology
from NetCentric Technologies Inc., USA.
---

Track the compliance of PDFs - Avoid Risk of Future Legal Action
---
CommonLook Clarity tracks PDF status on networks (domains)
to accelerate remediation and compliance.
CommonLook Clarity aids management of document accessibility
- from authoring through to distribution
Track the compliance of PDFs,
and discover areas at risk of non-compliance,
to avoid future legal action.
---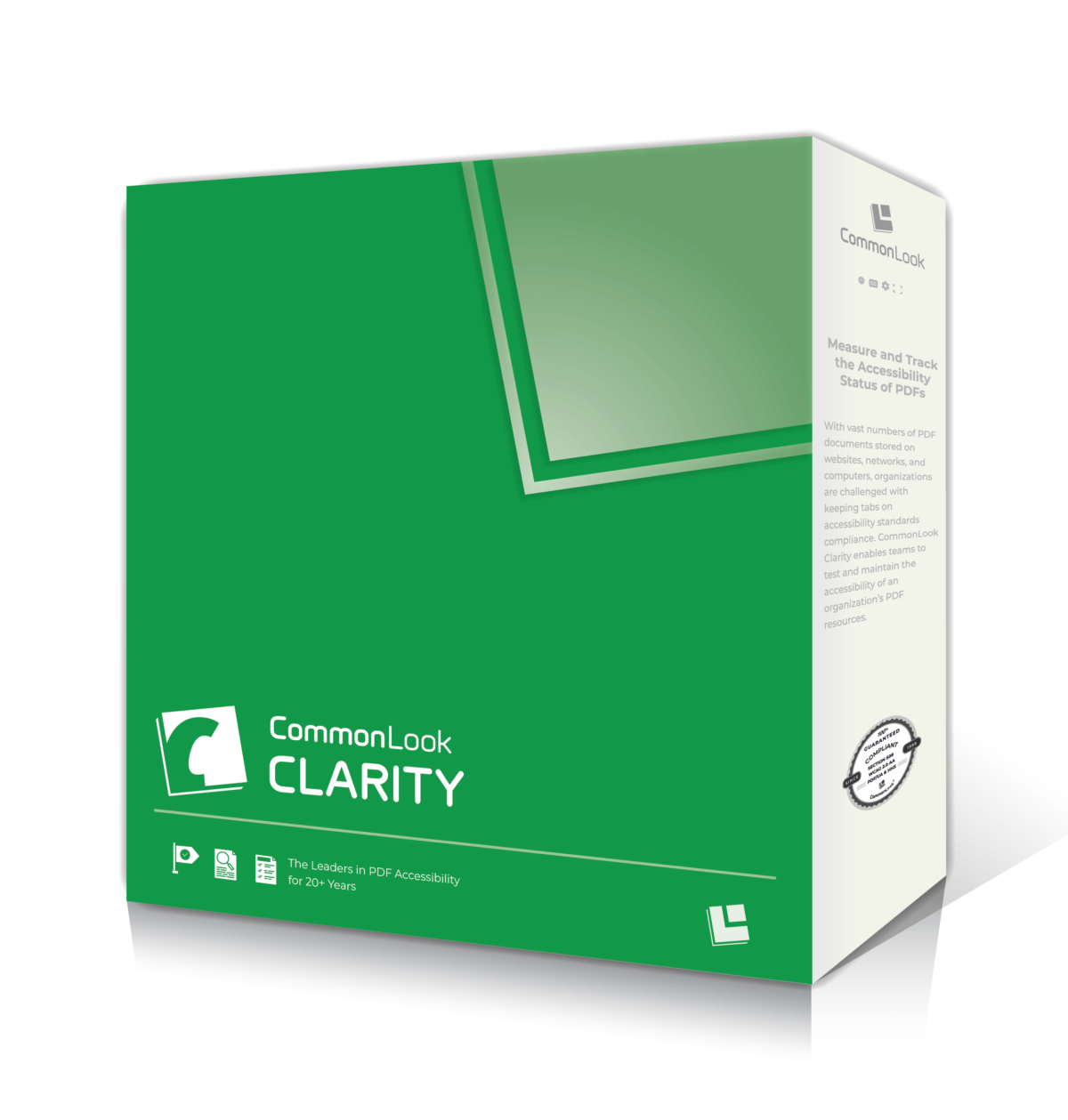 Related Datasheets/Brochures/Guides:

- CommonLook PDF Validator, Office, PDF, Clarity, Dynamic, Service, Training



---
CommonLook
webinars / video recordings, tutorials, demonstrations, trainings
Video Demonstrations of CommonLook Software
Reserve online-demonstration of CommonLook Clarity
CommonLook Training
---
---
Products

---
Request Demonstration of CommonLook Clarity
Measure and Track the Accessibility Status of PDFs

With vast numbers of PDF documents stored on websites,
networks, and computers, organizations are challenged
with keeping tabs on accessibility standards compliance.

CommonLook Clarity enables teams to test and maintain
the accessibility of an organization's PDF resources.
Manage Standards Compliance with Confidence

CommonLook Clarity complements other accessibility solutions which
scan HTML/CSS content, to comply with ISO PDF/UA, W3C/WCAG 2.0/2.1,
U.S. ADA Title III, U.S. Section 508, U.S. HHS, or
other accessibility standards.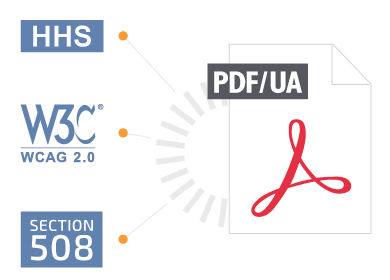 How to be compliant with accessibility standards?

Measure and track the accessibility status of PDFs


Monitor the compliance level of all digital PDF content


Remediate documents according to priority


Fully configurable to meet specific testing requirements
Track PDFs Through the Entire Cycle

CommonLook Clarity provides compliance, remediation, and
communications teams with the visibility they need to manage
document accessibility from authoring through to distribution.
Proactively monitor accessibility project progress


Allocate resources to optimize compliance with standards


Identify documents verified using
CommonLook PDF and CommonLook Office.
Actionable Reporting

Commonlook Clarity reports boost visibility on compliance status
to help teams make smarter, faster decisions.
Evaluate any PDF, and identify and fix issues to make it accessible.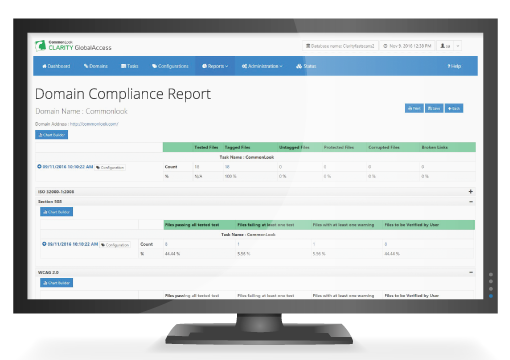 Domain Compliance Report
Dashboard
Status Report
How to avoid accessibility lawsuits for non-compliance?

Determine areas at risk of non-compliance,
and avoid the possibility of legal action


Support the continuous assessment and demonstration of compliance


Learn the status of compliance projects early and take action faster


Track compliant files over time with a unique history report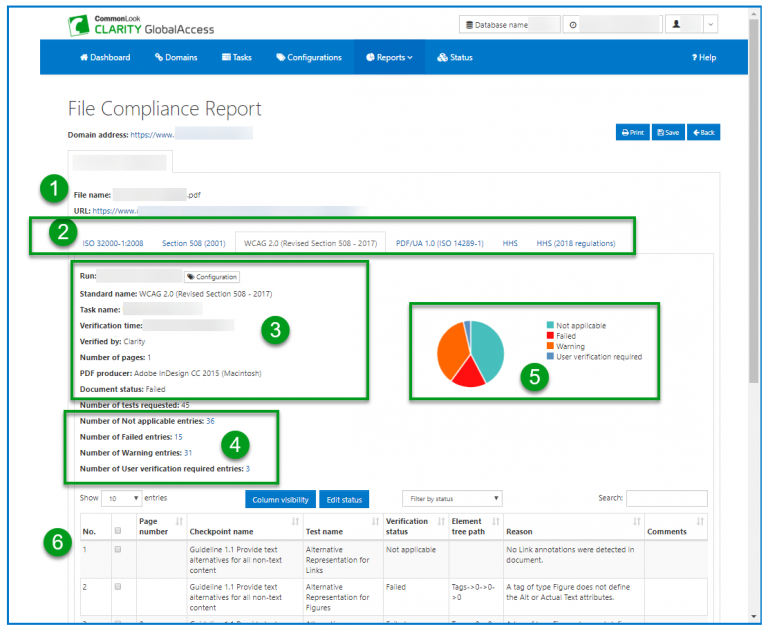 File Compliance Report
Manage it your way - Software as a Service (SaaS)

Choose the plan that matches your needs and works best for your environment.

(CommonLook Clarity software is also available for local/on-premises server
installation in cases where customer documents must be kept strictly internal).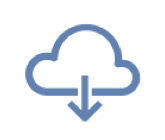 Buy As A Cloud Subscription
Enjoy unlimited access to CommonLook Clarity for an annual fee.
Avoid hardware investments and maintenance charges while
CommonLook host the software.

Buy As A Flexible Subscription Service
Get the same Clarity reports, on a regular basis,
while saving time and money.
CommonLook handles the hosting and scanning for a very affordable price.
Workstation System Requirements

On-premises server installation:

Microsoft Windows 10, 8, 7, Vista or XP


Adobe Acrobat 6.0, 7.0, 8.0, 9.0, 10.0 (Acrobat X),
11.0 (Acrobat XI), or Acrobat DC - Standard or Professional



CommonLook Software Tools

We also offer CommonLook industry-leading software tools
to help automate the accessibility testing and remediation.

For more information contact NewFormat
---
NewFormat AB
Smörblommegränd 14, SE-165 72 Hässelby (Stockholm), Sweden
tel:+46 (0)70 631 53 01

All content © copyright 2008-2019 NewFormat AB. All rights reserved.
---


CommonLook Software and Services Partner