---

CommonLook
PDF Accessibility: Problem Solved

Solutions for Compliance with Accessibility Standards:
ISO 14289-1 (PDF/UA),
W3C/WCAG 2.0/2.1,
U.S. Section 508 and U.S. HHS
Our solutions are based on
tested, reliable, and highly accessible software solutions.
NewFormat is Appointed Reseller and Solution Partner in
Nordic (Sweden, Denmark, Finland, Iceland, Norway)
and
Baltic Region (Estonia, Latvia, Lithuania)
of leading CommonLook PDF technology
from NetCentric Technologies Inc., USA.
---
Products

---
Request Trial of CommonLook PDF
CommonLook PDF
When you're looking for the most functionally rich software to
support remediation efforts, you're looking for CommonLook PDF.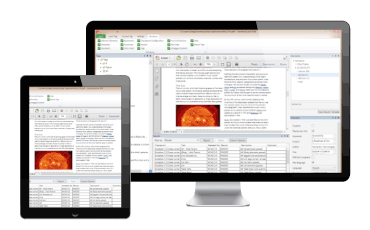 CommonLook PDF (formerly PDF GlobalAccess)
is the industry-leading software tool that enables teams to
rapidly test, repair, and report on accessible PDF documents.
It simplifies and accelerates the remediation process,
to ensure compliance with accessibility standards.
CommonLook PDF simplifies the remediation of PDF files
so that they're accessible to people with disabilities.
CommonLook PDF is the remediator's tool for fixing PDF documents.
While there is a lot of automation built in,
there are still checkpoints that need to be manually addressed.

Fortunately, CommonLook PDF takes the user through all of those
items in the document so that these issues are addressed,
and the PDF is accessible.



Accessibility remediation with
Adobe Acrobat or CommonLook PDF?

CommonLook PDF plugin enhances native accessibility
remeditation capabilities and features of
Adobe Acrobat Professional and Standard.

Acrobat doesn't test for conformance against any established
accessibility standards while CommonLook PDF Validator tests against
ISO PDF/UA, W3C/WCAG 2.0 AA / 2.1 AA, U.S. Section 508 and U.S. HHS.

Why does CommonLook PDF och PAC3 tell me I'm failing
when the PDF passes in Adobe Acrobat?"



---
CommonLook PDF helps to reach compliance with
accessibility standards, disability laws and regulations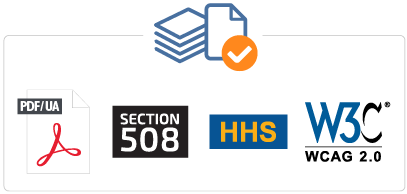 As more and more individuals and organizations strive to be more
socially responsible and to comply with various accessibility standards
and disability laws and regulations, CommonLook PDF serves as an
essential tool in that pursuit.

This is true primarily for two reasons:

CommonLook PDF greatly reduces the time and effort required to
turn an inaccessible PDF file into one that can be used by persons
with disabilities such as blindness, low vision, and limited mobility.


CommonLook PDF measures the compliance of PDF files against
the checkpoints set forth by a number of authoritative
accessibility standards such as ISO PDF/UA, W3C/WCAG 2.0/2.1,
U.S. Section 508, and U.S. HHS.

By validating against the primary globally recognized standards
established for document and PDF content accessibility,
CommonLook PDF provides you with the means of ensuring your
content can be produced in a manner that is likely to be acceptable
to the regulatory jurisdiction governing your content.
Produce the highest quality accessible documents,
quickly and efficiently

CommonLook PDF enables teams to produce high quality
remediated documents, quickly and efficiently.
It simplifies and accelerates remediation tasks while injecting
a methodology into the remediation process.

This functionally rich solution is the premier choice for
industry professionals concerned with ensuring compliance
with accessibility standards.

Beyond efficiency and process optimization, CommonLook PDF includes
comprehensive auditing of manual and automatic validation points
in a definitive CommonLook Report.
Complete Toolset for PDF Remediation

CommonLook PDF provides an "all-in-one-environment" to
test, remediate and verify documents.
CommonLook PDF is loaded with powerful tools to
accelerate the remediation process.

Convenient plug-in for Adobe Acrobat;
it provides faster and more efficient results than Acrobat
when verifying and correcting tags in PDF files


Ensures conformance with applicable accessibility standards


Scale up document remediation capacity,
while maintaining quality and accuracy


Allows verification and correction of tagging order and
semantics in a dedicated, auditable workflow


Automatically detects and repairs a variety of
common PDF problems


Dramatically reduces the time required to
correct existing PDF documents


Re-orders page content to improve the reading experience with
mobile devices and software that does not support tagged PDF




Note! Using CommonLook PDF to fix PDFs will not change
the physical appearance of the document!
CommonLook PDF, like having an In-House Compliance Expert

As organizations strive to make their website and document content
compliant with the accessibility standards, they face gaps in their
in-house knowledge and resources.

CommonLook PDF does not require that compliance,
communications, and IT-users have prior knowledge of
accessibility software or compliance standards.

Advantages:

Reduces compliance costs by cutting the frequency and
expense of document repairs


Builds internal capability to address rising demand for accessible PDFs


Guides users through each document's accessibility checkpoints


Access CommonLook training to raise document remediation skills



KeyFeatures:

CommonLook PDF Accessibility Plugin List of Features

Provides validation against recognized standards:
ISO PDF/UA 1.0, W3C/WCAG 2.0/2.1, U.S. Section 508, and U.S. HHS


Supports structural validation based on ISO 32000-1:2008


Supports documents with multi-page structures,
and structures that move between pages


Powerful, time-saving tools for working with
tags, tables, lists, and tables of content


Verification and correction of tagging order and
semantics in a dedicated, auditable workflow


Alerts users to correct structuring of
tables, lists, and tables of contents.


Output PDF files are verified by the software or the operator,
as appropriate to each checkpoint


Generates a checkpoint-by-checkpoint, element-by-element report,
accepted by the US Department of Health and Human Services (HHS)
and other Federal agencies.


Extensive reporting including the Matterhorn Protocol


Support for automatic bookmark-generation
(based on heading levels)






Features worth to notice:

Optimization:

Displays information and performs actions
related to the current checkpoint.
Items addressed are removed from the list



Automation:

Segment testing by individual checkpoint,
increasing productivity by allowing specialist users
(for example, alternate text authors or table specialists)
to focus on their subject-matter expertise



Advanced Table Structure Editor:

The table checkpoint window provides a wide range of
powerful tools to verify and remediate tables



Synchronized View:

Users may view logical structure and physical views together,
with or without artifacts displayed



Verification Reports:

Provides detailed and summary test results
by page and for the document as a whole
Workstation System Requirements

Microsoft Windows 10, 8, 7, Vista or XP


Adobe Acrobat 6.0, 7.0, 8.0, 9.0, 10.0 (Acrobat X),
11.0 (Acrobat XI), or Acrobat DC - Standard or Professional



CommonLook Software Tools

We also offer CommonLook industry-leading software tools
to help automate the accessibility testing and remediation.

For more information contact NewFormat
---
NewFormat AB
Smörblommegränd 14, SE-165 72 Hässelby (Stockholm), Sweden
tel:+46 (0)70 631 53 01

All content © copyright 2008-2019 NewFormat AB. All rights reserved.
---


CommonLook Software and Services Partner