---


Part of NewFormat AB Portal
---


---
OpenFormat
Products and Services
Offerings / Promotions / Prices
Guides and Datasheets
---
Customer Contact Form
Home/NewFormat
---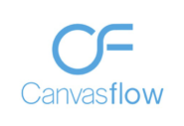 Canvasflow Cloud
Digital content production made simple.
Creation of enriched and responsive HTML5-based article content in minutes
for tablet and mobile publishing with Twixl Publisher 5,
or any other publishing platform of your choice.

Our solutions are based on
tested, reliable, and highly accessible hardware and software solutions.

NewFormat is Appointed Reseller and Solution Partner in
Nordic (Sweden, Denmark, Finland, Iceland) and Baltic Region (Estonia, Latvia, Lithuania)
of Canvasflow Cloud from Canvasflow Ltd, UK.


---
Canvasflow Cloud

Canvasflow is a cloud-based, HTML5 authoring tool enabling
publishers, brands and marketing departments to quickly create rich,
responsive content for publishing across multiple digital channels.

HTML5-based articles, separate or complete documents, created with
Canvasflow Cloud can easily be published with 1-click on Twixl Distribution Platform.

Canvasflow Cloud is developed specifically for content creators.
Featuring an intuitive drag and drop interface, rich media support,
an inbuilt style builder and single click publishing, Canvasflow simplifies
and streamlines your publishing workflow by creating immersive
digital content in minutes and without the need for developers.

Because Canvasflow is a fully cloud-based solution,
there are no hardware requirements or software to install
meaning you get started right away.


---
Canvasflow and Twixl Publisher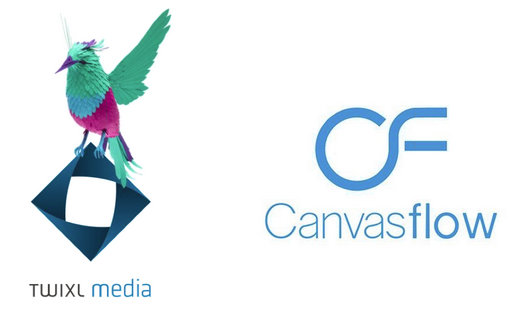 Canvasflow provides a deep integration with Twixl Publisher, letting you take
advantage of many of its new features right from within the Canvasflow platform.
With simple setup, multi-application support, article metadata and instant publishing,
it's the perfect platform to begin authoring your digital story.


Article-based publishing in Twixl Publisher:


No big bulk downloads
Download on demand
Cached for offline use
Easy update by article
Bandwidth friendly
For continuous as well as issue-based publishing


HTML advantages:


Responsive content
Smaller, thus quicker downloads
Easier to update
Easier to automate
--> Cost effective


Automated content publishing in Twixl Publisher:


HTML5 authoring with Canvasflow
Canvasflow generates output as optimized, responsive HTML5 code
Push content from Canvasflow via API into Twixl Distribution Platform
1-Click publishing to go live



---
---
Canvasflow Webinars/Video Recordings and Demonstrations
Video Demonstrations of Canvasflow - Popup-window
Reserve online-demonstration of Canvasflow
---
Products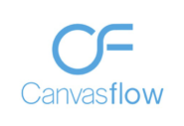 Canvasflow Cloud

Click Here for Free Trial of Canvasflow Cloud
(You will be asked to fill in a trial request form.
To help us identify your interest for the Canvasflow cloud-based service
and support you, please enter the code
"Preferred Reseller NewFormat, Sweden"
in the Contact Number / Telephone form field,
besides entering your phone number).


The Canvasflow Platform
Simplify your content creation
Canvasflow's HTML5 authoring system simplifies your content creation process
by giving you the power to create responsive content quickly and easily.
With an intuitive, drag-and-drop interface, you can quickly create optimised
articles compatible with multiple digital channels and screen sizes.

No training required
Canvasflow gives you full control of both the structure and design of your
content so your team can build articles in minutes and publish in seconds.
There is no software to install, no developers required and
no Adobe InDesign or coding knowledge needed.

CMS Integration
Publish content directly from your CMS into custom built templates.
Our dynamic templating takes care of the rest, transforming your
content to optimised Canvasflow-/HTML5-compatible content.
The result: a better UX informed by apps for mobile devices and
better performance than that offered by traditional web pages.


---
Canvasflow Benefits


Simple to use

A simple drag and drop interface with customisable
templates enable rapid article creation.



Creative Design

The built in style editor ensures a consistent look & feel of your content.
No developers required.



Mobile First

A responsive workspace enables you to create content
in exactly the environment you are publishing to.



Instant Publish

Connect to the publishing platform of your choice
and share your content with the world.



Canvasflow Key Features
100% HTML5 responsive output via an intuitive drag and drop UI.
Multiple publication support for article- and issue-based publications and workflows.
Multiple publishing platform capability.
Design article styles without the need for developers.
Customisable templates and advanced layouts to streamline article creation.
Fully responsive workspace.
Custom font support.
Instant article preview for multiple device types and orientations.
Optimised output for fast publication downloads.
Channel specific metadata support.
Multi user support for both internal and external collaborators.
Full Twixl Publisher integration.
Premium support.
---
Canvasflow is Feature Rich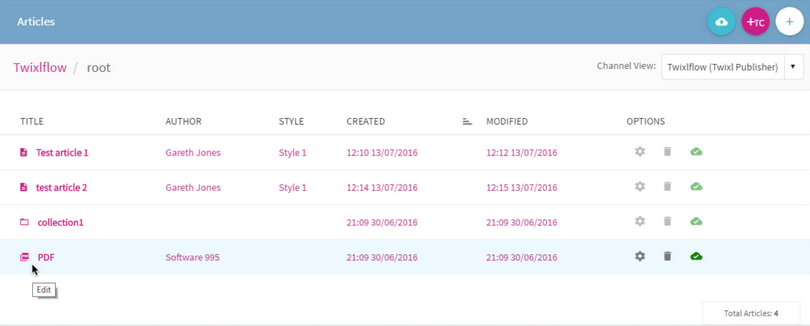 Recently Added Features

Deeper integration between Canvasflow and Twixl Publisher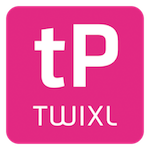 Twixl Hamburger Menu

Twixl Publisher clients can now manipulate their
Twixl Hamburger Menu from Canvasflow.
Add Collection links, placeholder images,
or web links for simpler user navigation

Channel specific view
Create, delete and navigate collections
Create unlimited nested collections
Reorder articles within a collection
Move articles between collections
See current publish status of an article
Set the default publish action for a publication
Thumbnail support and cell style controls across all content items
Un-publish articles without having to delete them
Moving from development app to production app
is a completely seamless experience
Push Notifications

If you have push notifications enabled on your Twixl account,
you can now compose and send notifications directly to your app.

Content Items:

Native support for Twixl Publisher content items.
This enables you to create and manage not only HTML articles, but
also InDesign files, PDF's, videos, Twixl collections and much more.

Content items can be styled, metadata added and
social share information managed,
all right from within your Canvasflow account.
View, reorder, rename, move and delete Twixl content items.



Recently Added Generic Features

Adverts, Adverts, Adverts


Full-Page Advert component,
making it simple to insert full page ads into your apps


Batch PDF to Article Creation


Upload PDF and convert to Canvasflow articles effortlessly.
Each PDF page will be created as a separate article
for easy content management


Templates from Articles


Create a template from an existing article to re-use
the format of a great looking article for future content


Full-width Images


New property to the Image component, 'Force Full Width'
Forces an image to resize to fit the width of the canvas,
regardless of it's raw dimensions


Enhanced Article Management


Download of articles (without switching channels)
Duplicate content
Move articles seamlessly between collections
Un-publish live content with a single click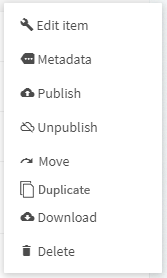 Un-interrupted Workflow

New queuing system:
No waiting for content to finish publishing.
Simply hit publish and continue to work while
Canvasflow processes in the background
(while providing real-time status updates,
which is particularly useful when working with large articles).


Offline Video


Upload MP4 video files, set a poster image and
have them available within your app at anytime.


Enhanced Gallery


The gallery component has been redesigned to provide
improved touch support, automatic aspect ratio notifications,
built in image cropping and slide by slide caption support.


Custom Code Zip


Got complicated code with external assets
that you need included in an article?
The custom code component lets you upload a zip file,
including all assets, with just a few clicks.


Linked Anchors


With the new anchor component you can direct
readers to exactly the content that matters.


HTML5 Tables


Working with tabular data just became easier with
native support for CSV powered HTML tables.
Fully responsive, searchable and managed with a single click.


Hi-Res Image Support


All image components now offer optional RAW image support,
for whenever you need that extra resolution.



Features Supported Since Before

HTML5 Output


Support for article and issue based publications.


Fully Responsive


All content is automatically responsive accross all devices.


Powerful Editor


Build content in seconds with an intuitive, drag-and-drop interface.


Built in styling


Customise your brand style from within the application.


Media Widgets


Bring your articles to life with video, audio, maps and more.


Multiple Publications


Manage multiple publications, issues & articles.


Metadata support


Full article metadata support on a per channel basis.


Mobile Preview


Design and preview on multiple devices before publishing.


Flexible Publishing


Publish an individual article or a entire issue with a single click.


Custom Integrations


Integration into your existing publishing workflow.


Unlimited Users


Add unlimited users to expedite article production.


Premium Support


Premium support whenever you need it.


Other Great Features

Right to Left (RTL) text support
Inline custom code support
'Mailto' support added for image component
Media captions now support HTML5 phrase tags
Optimised meta-data management
Improved system notifications
Create Stunning Content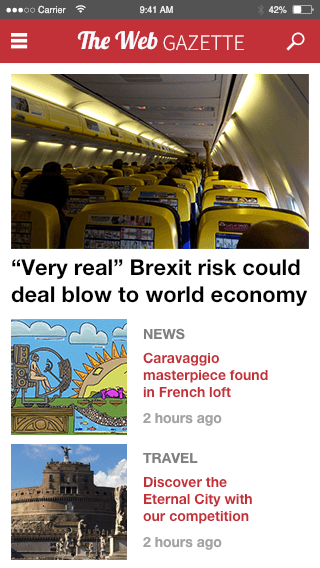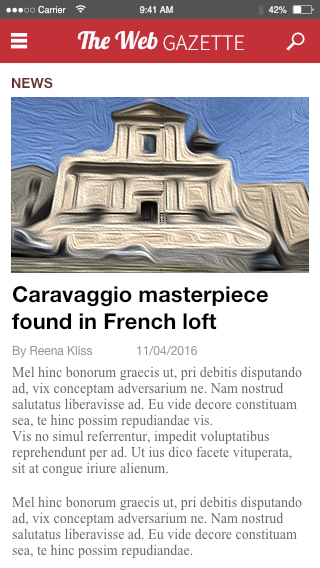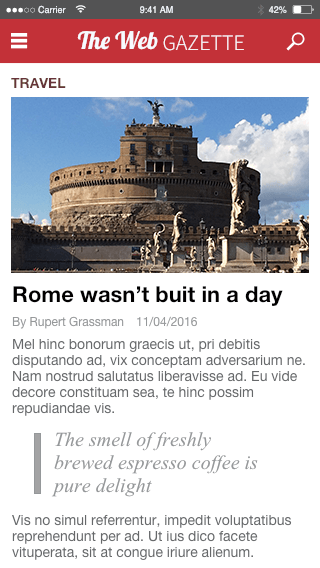 ---
For more information contact NewFormat


---
NewFormat AB
Smörblommegränd 14, SE-165 72 Hässelby (Stockholm), Sweden
tel:+46 (0)70 631 53 01

All content © copyright 2008-2018 NewFormat AB. All rights reserved.


---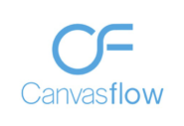 Canvasflow Partner