NewFormat AB är medlem i följande branschorganisationer:
PDF Association
Småföretagarnas Riksförbund
GrafKom
PASIG
Svenska förpackningsgillet (SFG)

"The Meeting-Place of the PDF Industry"
PDF Association, www.pdfa.org

PDF Association är ett globalt industriinitiativ för utvecklare av PDF-lösningar;
företag som arbetar med PDF i dokumenthanteringssystem (DMS) och
med digital innehållshantering (ECM), intresserade individer, samt
användare som vill implementera PDF-teknik i sina organisationer.

Alltsedan sitt grundande 2006 främjar PDF Association förståelse, användning och
implementering av internationella standarder baserade på PDF-teknik.




Obs:
Portable Document Format (PDF) är ISO-standard sedan 2008

PDF vidareutvecklas sedan 2008 av PDF Association i samverkan med ISO;
PDF-tekniken ägs således ej av Adobe Systems.

Adobe är fortfarande en viktig deltagare i utvecklingen av PDF,
men nu som likvärdig bidragsgivare och medlem i PDF Association.





PDF Associations Mission
"Att främja användning av elektroniska dokument baserade på
öppna standarder implementerade med PDF-teknik samt verka för
kunskapsspridning genom utbildning och erfarenhetsutbyte
med alla intressenter runt om i världen."

PDF Association stöder aktivt utbildning och användande av ISO 32000
(den internationella standarden för PDF / Portable Document Format),
så väl som PDF/A, PDF/E, PDF/UA, PDF/VT och PDF/X.

PDF Association har ett nära samarbete med ISO och AIIM
om den framtida utvecklingen av PDF-standarder.

Föreningen underlättar nätverksbyggande och kommunikation,
samt utbyte av kompetens och erfarenhet med berörda parter och
intressenter över hela världen och omfattar mer än 100 företag och
ett stort antal enskilda experter från mer än 20 länder.

Utvecklare
är med i PDF Association för att förbättra och verifiera sin PDF-programvara,
samt för att utbyta kunskap och erfarenheter av PDF-teknik.


Beslutsfattare
är med i PDF Association för att lära sig mer om betydelsen och
möjligheter med PDF och underliggande PDF-standarder för ECM
och andra elektroniska dokumenttillämpningar.


Slutanvändare
är med i PDF Association eftersom de gynnas av förbättrad tillförlitlighet,
kvalitet, funktionalitet och interoperabilitet vid användande av
elektroniska dokument som baseras på PDF-teknik.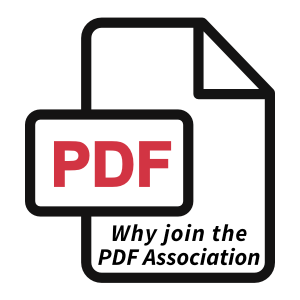 Styrelsen representerar en mängd olika företag med verksamheter
inom PDF-teknik, programvaror, molntjänster, affärstillämpningar,
tjänster och mer.

I styrelsen ingår representanter från flera direkta konkurrenter,
vilket belyser vikten av samarbete i en bransch där samverkan,
baserad på standarder, utgör grunden och värdet i att använda PDF-teknik.

I styrelsen ingår företrädare från
Adobe Systems Inc., callas software GmbH,
Datalogics, Digital Frontiers, Dual Lab,
Foxit Software, intarsys consulting GmbH, iText Software,
Nitro Software Inc, Orpalis, PDFTron Systems Inc,
the ISO 32000 Project (the core PDF standard).

Föreningens ordförande är Matt Kuznicki, Chief System Architect, AbleDocs.
Föreningens vice ordförande är Dietrich von Seggern, Managing Director,
callas software, och ISO Liaison Officer för the PDF Association.
Föreningens Chief Executive Officer är Duff Johnson.

PDF Association Lifetime Member (2016): Olaf Drümmer, callas software GmbH.




Kent Åberg, grundare och vd för NewFormat AB,
är kontaktperson för PDF Association Scandinavia Chapter.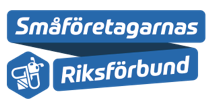 Småföretagarna Riksförbund

Representerar 30 000 småföretagare och verkar för företagande,
företagares rättigheter och bidrar till ett klimat som gör det lätt och
attraktivt att starta, driva och utveckla företag i Sverige.

GrafKom

Branschförening i Sverige för alla som är intresserade av
grafisk kommunikation och som vill främja medvetenhet,
dela kunnande och driva branschen framåt.
Medlemmar är alltifrån de allra största grafiska företagen till
mindre tryckerier, copyshops, interntryckerier, grafiska skolor och
leverantörer samt andra intresserade.
PASIG
The Preservation and Archiving Special Interest Group (PASIG)

är ett öppet forum med fokus på att främja praxis för
digitalt bevarande och arkivering.

Medlemmar är arkivarier, branschexperter och forskare
som är intresserade av att, i ett leverantörsneutralt forum,
utbyta praktiska erfarenheter och identifiera möjliga
gemensamma utvecklingssamarbeten i hur man bedriver
digitalt bevarande och arkivering i praktiken, inklusive:

Riktlinjer, bästa praxis, bedömnings-/revisionskriterier och standarder


Arkitekturer, design, arbetsflöden och implementeringar.


Programvaror, system och tjänster.


Tendenser, framtida inriktningar och nya produkter/lösningar.


Fallstudier, recensioner och praktiska resultat.


Jämförelser och val av gemensamma eller proprietära lösningar,
onsite eller hosted, anpassade eller standardiserade lösningar, osv.



Som ett forum erbjuder PASIG tre deltagare tre fördelar:

Sammanföra utövare med varandra för att dela
information, design och bästa praxis.


Sammanföra utövare och leverantörer, för att både informera
om marknads- och produktutveckling, och hjälpa utövare att göra
bästa möjliga implementation av system, komponenter, expertis
samt teknik och service som erbjudes på marknaden.


Förbättra förståelse, kunskap och praktisk handhavande för
digitalt bevarande och arkivering bland intressenter världen över,
oavsett storlek, industri, innehåll eller relativ mognad.



PASIG är framförallt inriktat på de praktiska aspekterna av digital bevarande;
standarder diskuteras, men det är inte en standardinställningsorganisation.
Teori, forskning och politiska diskussioner är också relevanta,
i den mån som de har en direkt och konkret inverkan på den
nuvarande digitala bevarandepraxisen.

PASIG är forumet för att dela med sig av praktiska erfarenheter,
framgångar, erfarenheter, och alltmer, ett forum för att främja
samordning och samarbete för att möjliggöra den mest effektiva
användningen av resurser och investeringar.

För att sprida globala idéer och främja bäst praxises bäst anordnar PASIG
konferenser som alternerar mellan de östra och västra hemisfärerna;
dessa hålls ungefär var 12:e månad vid frivilliga värdinstitutioner.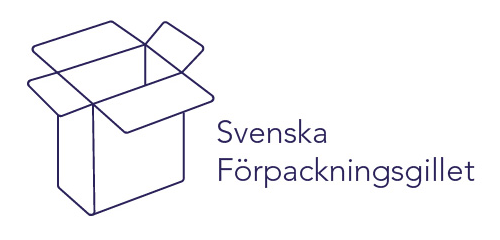 Svenska Förpackningsgillet (SFG)

SFG är det personliga yrkes-nätverket för dem som arbetar med förpackningar.


SFGs syfte är att främja utvecklingen av medlemmarnas kunskap och karriär.
Detta görs främst genom:

Kompetenshöjande aktiviteter;
t.ex. via föreläsningar och studiebesök.


Synliggöra medlemmars kompetens, öka inbördes kommunikation och utbyte;
t.ex. via nätverksträffar och diskussionsforum.


Öka antalet medlemmar och antalet aktiva medlemmar.


Tillsammans arbeta för att tydliggöra och stärka våra yrkesroller.
---