Annual Subscription Fees (Euro)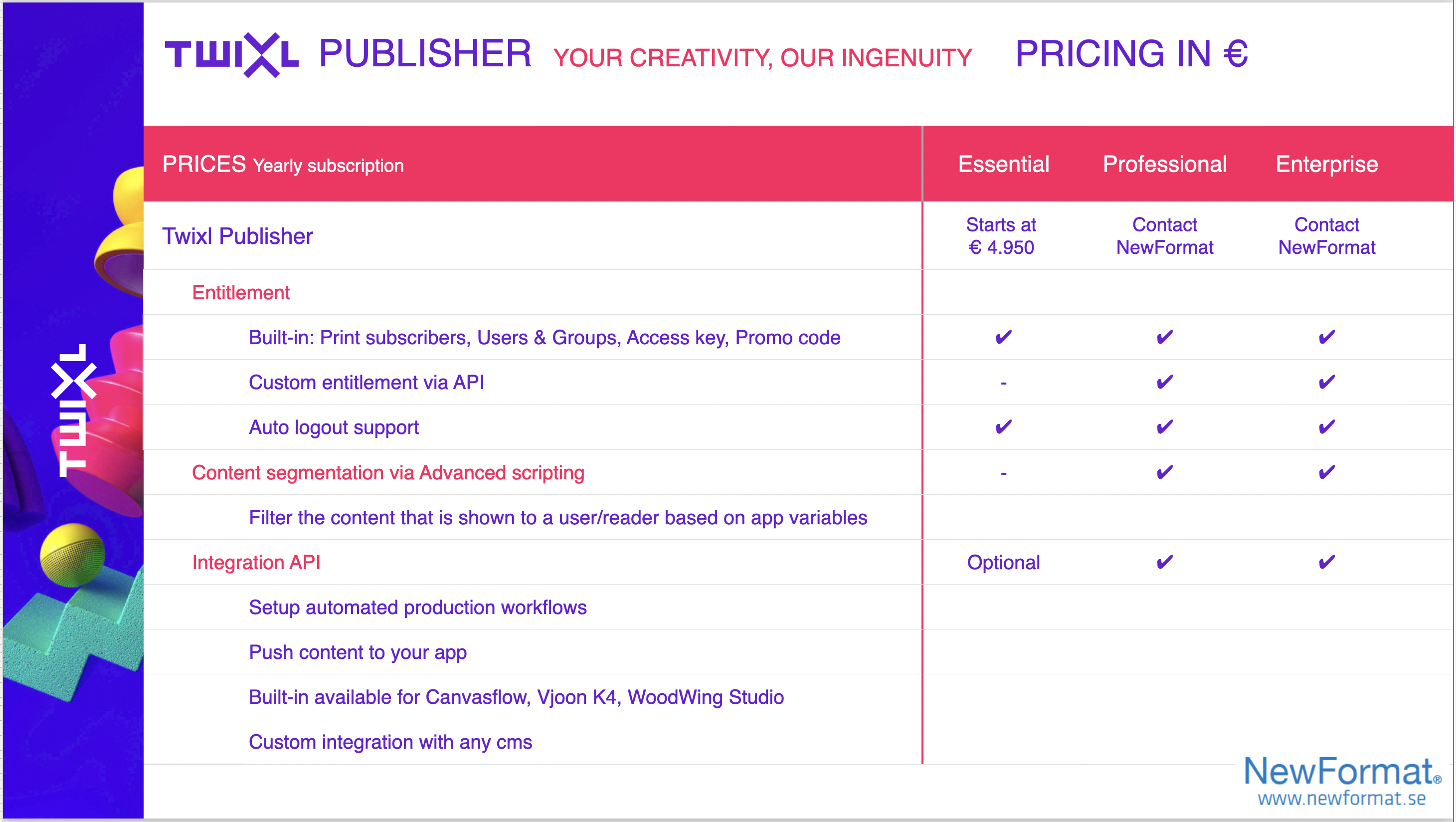 ---

Which subscription plan to you need?

Twixl offer three yearly subscription plans:
- Essential, Professional and Enterprise.

The subscription that is right for you will depend on the type and
the number of app(s) you want to create and publish,
specific features and supporting services needed.

Please note that you can always upgrade to a subscription with
more features during the course of your subscription.

All subscriptions allow you to create "ad hoc" or "test flight" test builds,
app store builds as well as iOS enterprise builds.




Twixl Publisher Essential / Professional / Enterprise

With these subscriptions you can publish native apps
in the different app stores and manage and store
the different apps and issues on the Twixl Distribution Platform.

You can publish native-apps using
Adobe InDesign, HTML or PDF-based content.
You can also combine these different content sources in the same app.

Twixl Publisher provides very flexible configuration options to
fully customize the interface of your app according to your needs.

All apps on the Twixl Distribution Platform support the use of
in-app purchases and subscriptions, and allow you to send
push notifications.

Analytics reports are readily available.
If you need to integrate third party analytics,
Google Analytics and Localytics are also supported.



Entitlement Pack Option

This option allows you to use restricted access (entitlement)
in your apps, both for app store or in-house apps.

More on Entitlement Pack



Integration API Option

This option is required when you want to integrate
with automated production flows.

More on Integration API



Automated Content Sources Option

With this option you can subscribe to content from
RSS feeds, YouTube channels and Vimeo Channels and
easily integrate that content in your apps.

More on Automated Content Sources



---
Twixl Publisher - Overview - Create and Publish
---
Twixl Publisher - Overview - Tools / Solution Modules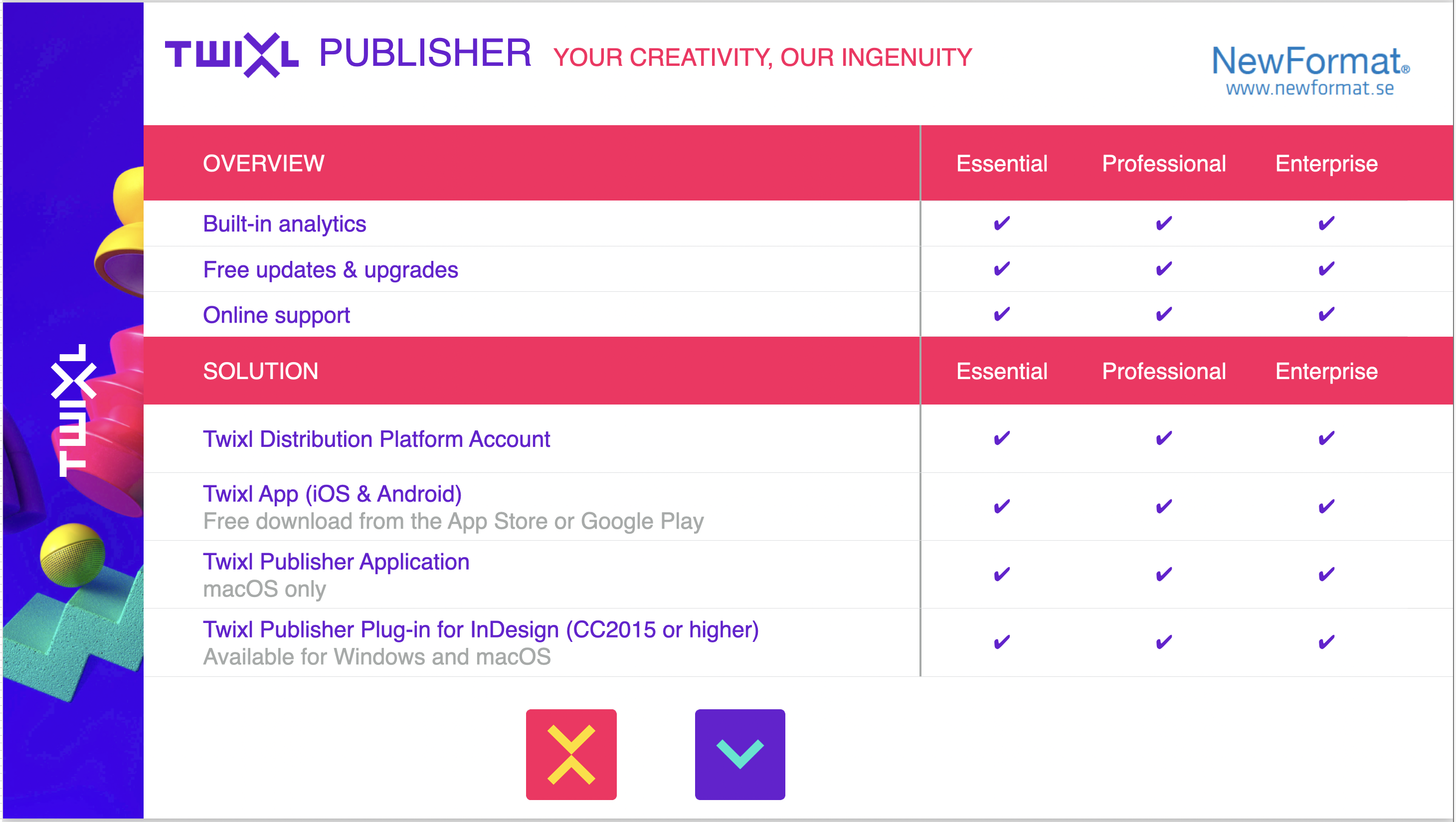 ---
Twixl Publisher - Overview - Features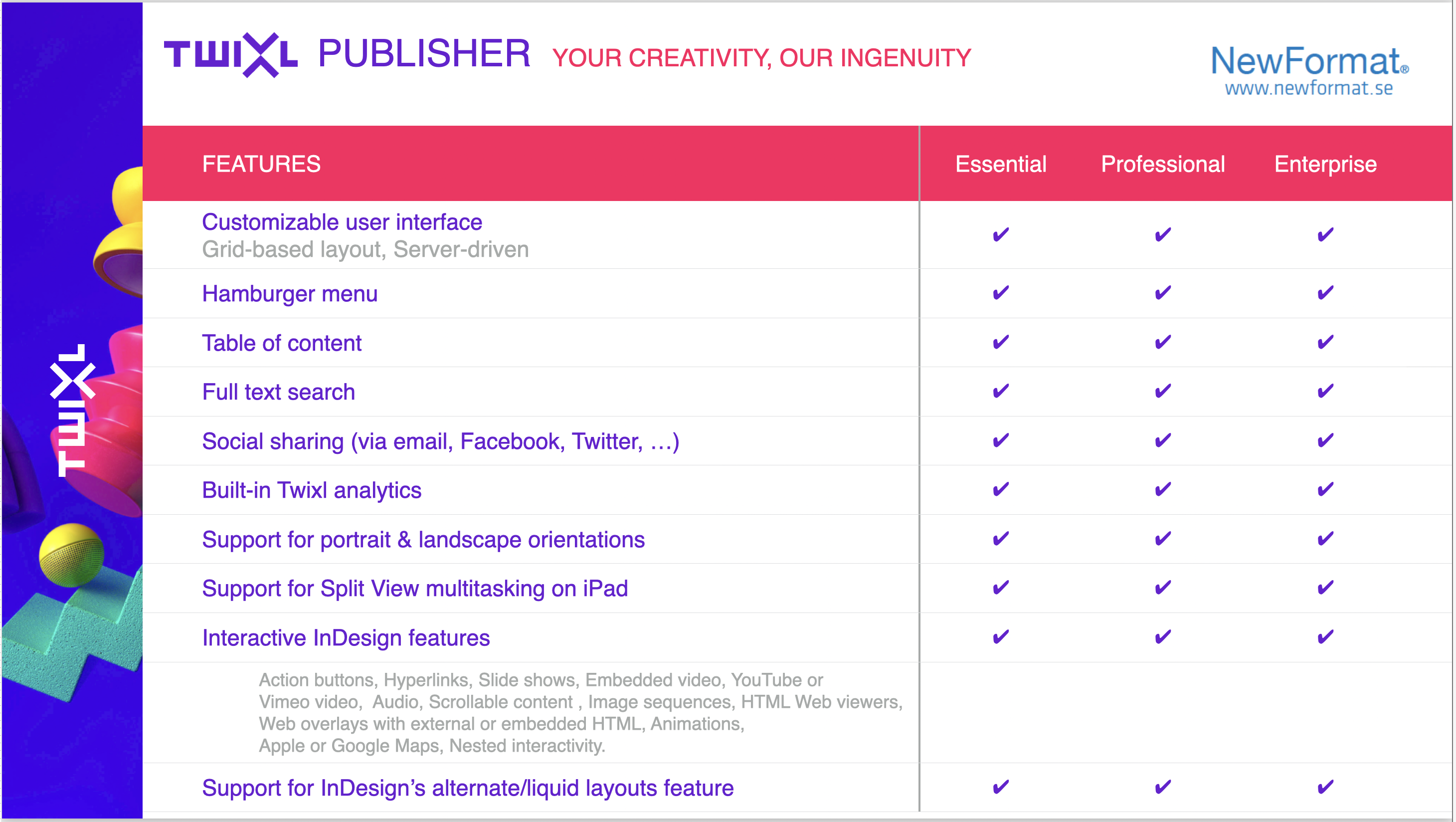 ---
Twixl Publisher - Overview - Preview and Deploy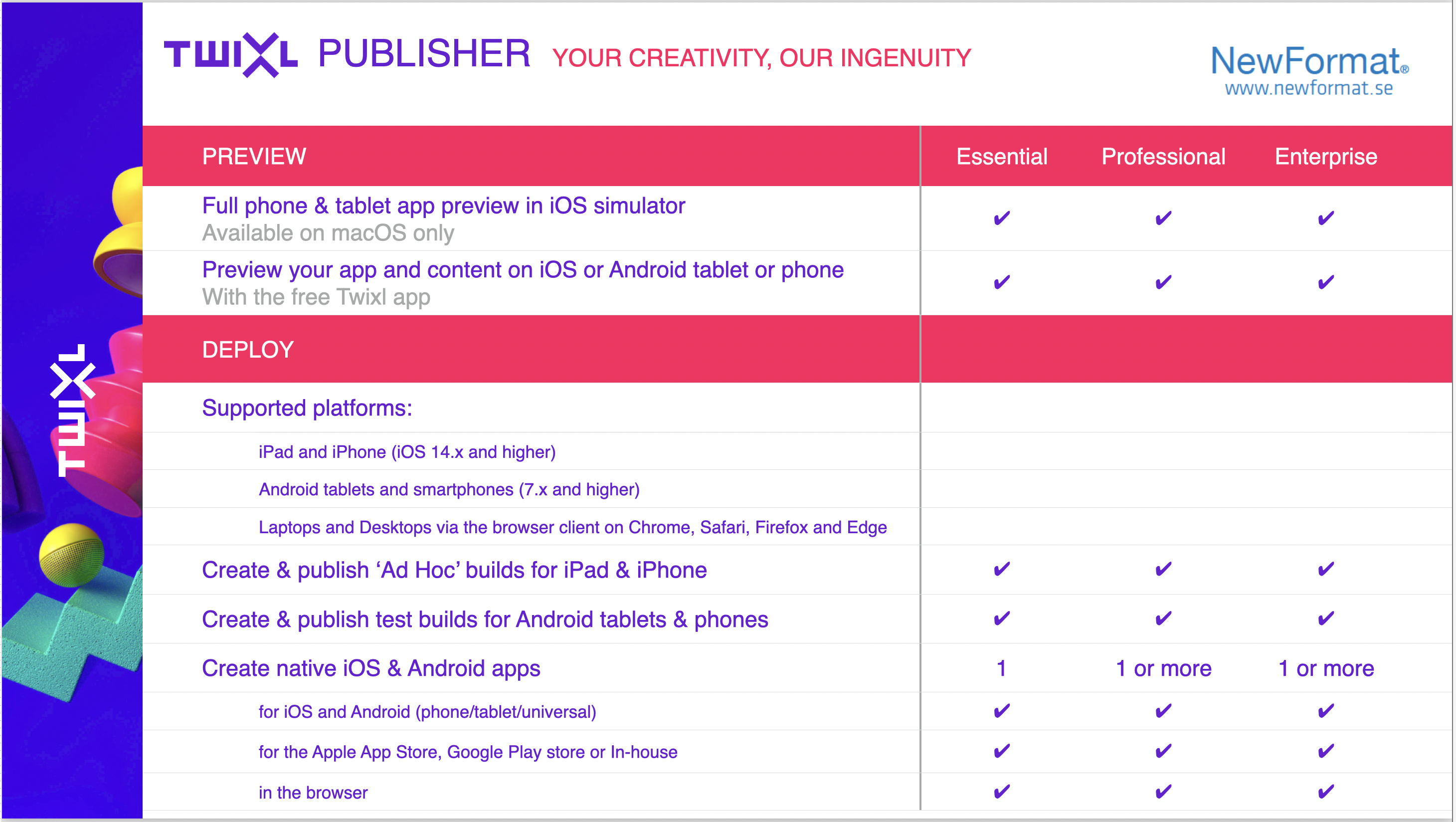 ---
Twixl Publisher - Terms & Conditions
Twixl Publisher General Terms and Conditions (GTC) - Full version

Every user (trial or paid) has to accept
the Twixl General Terms and Conditions (GTC)
to get access to Twixl's solutions:
Terms & Conditions - Summary

The standard subscription period for all products (licenses) is 1 year,
starting on the date the license code was delivered to the customer.

Subscriptions to be payed in advance of the start of the subscription period.

For renewals we expect the customer to pay for
the renewed subscription by the expiration date.
The payment term will then depend on when the order was placed.

The Essential, Professional and Enterprise subscriptions include
Twixl Publisher and an account on the Twixl Distribution Platform.

Subscriptions for 2 or 3 years can be offered with a discount of respectively
10% and 15%, but with up front payment only.
In that case, the order needs specifically state the duration.

The subscription price can be secured for 2 to maximum 3 years
if the customer is engaging upfront for 2 or 3 years.
The customer will be invoiced every year at the price that is agreed on upfront.
We do not apply a discount on those prices.

The Essential subscription allows only one native app (iOS & Android)
in the Twixl Distribution Platform.
If you want to build a second app, you will need to upgrade your subscription.
Upgrades - Summary

Upgrades from an Essential plan to Professional or even Enterprise plan are possible:

Prices and bandwidth will be re-calculated pro rata based on
the number of months remaining in the current subscription period.


If an upgrade comes close to the expiration date (within the last quarter)
we might suggest to handle the renewal at the same time.


It is also possible to start a new one year subscription at the time of the upgrade.
In this case the price of the new subscription will be diminished with
the amount of the previous subscription that was not yet consumed.
---
Twixl Publisher - Maintenance, Support & Upgrade Contract
Maintenance, Support and Upgrades
are included in the yearly subscription.




Maintenance:

bug fixes


software compatibility updates
(to Twixl platform & to fit Adobe InDesign)





Support:




Upgrades:

Both minor and major releases of the product.
---
Twixl Publisher - Compatibility / Extra Users
Compatibility / Extra Users

The number of users per license is unlimited.

Every license is limited to a single legal entity.
---
Twixl Publisher - Special Enterprise Licences
Special Enterprise Licences

Are unique for those customers that are asking
for special licenses or for specific deals:

Multi sites, multi companies


Specific SLA


Specific Terms & Conditions (STC) vs General Terms & Conditions (GTC)

We will analyse those requests and if possible offer a specific price for those licenses.
---

Twixl Distribution Platform
Prenumerationsplaner and Terms & Conditions
for App Publishing
Content delivery services are provided by
the Akamai Content Delivery Network (CDN)
---
Twixl Distribution Platform - Overview - Store and Management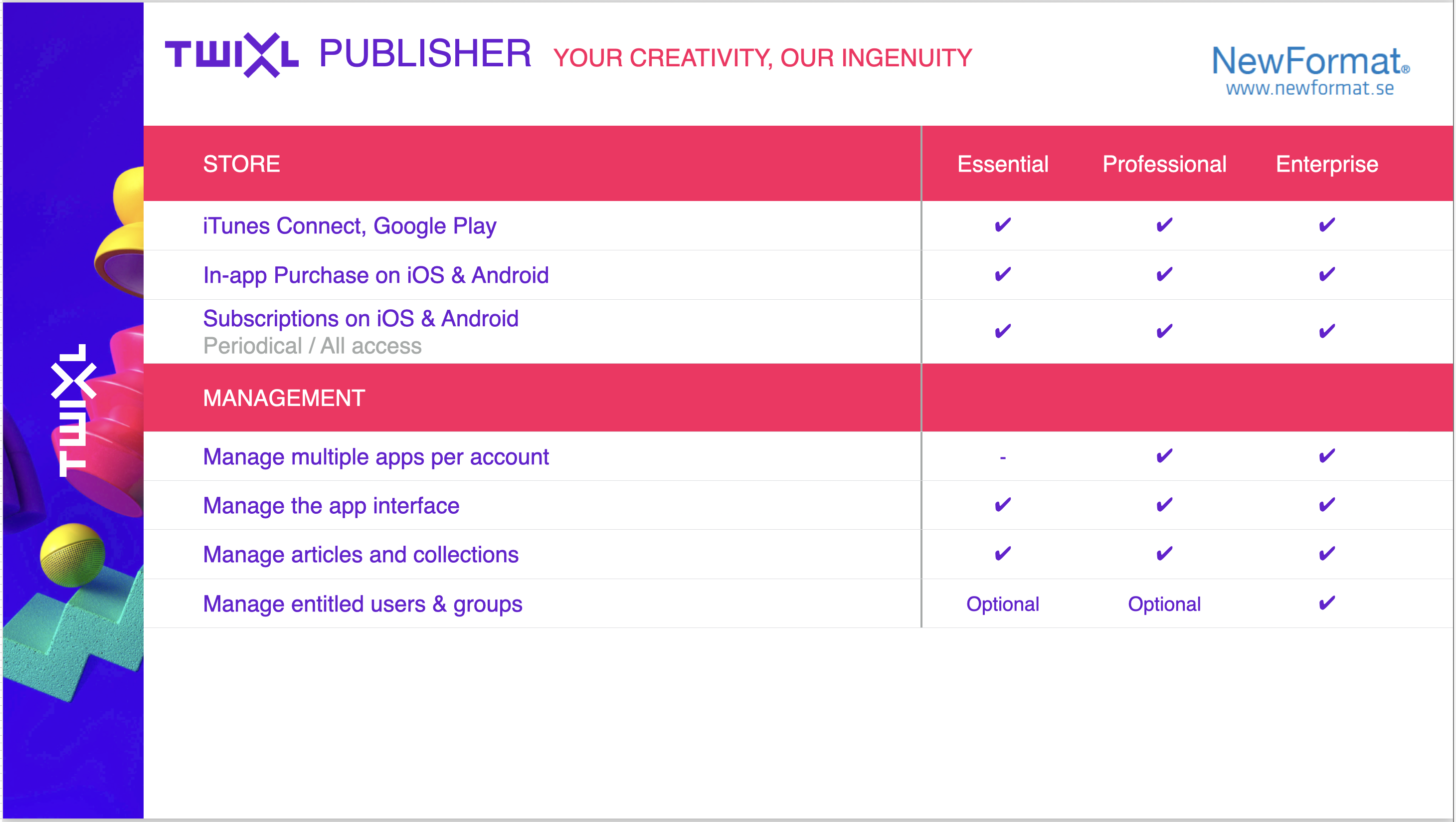 ---
Twixl Distribution Platform - Overview - Storage and Downloads
---
Twixl Distribution Platform - Overview - Communication and Security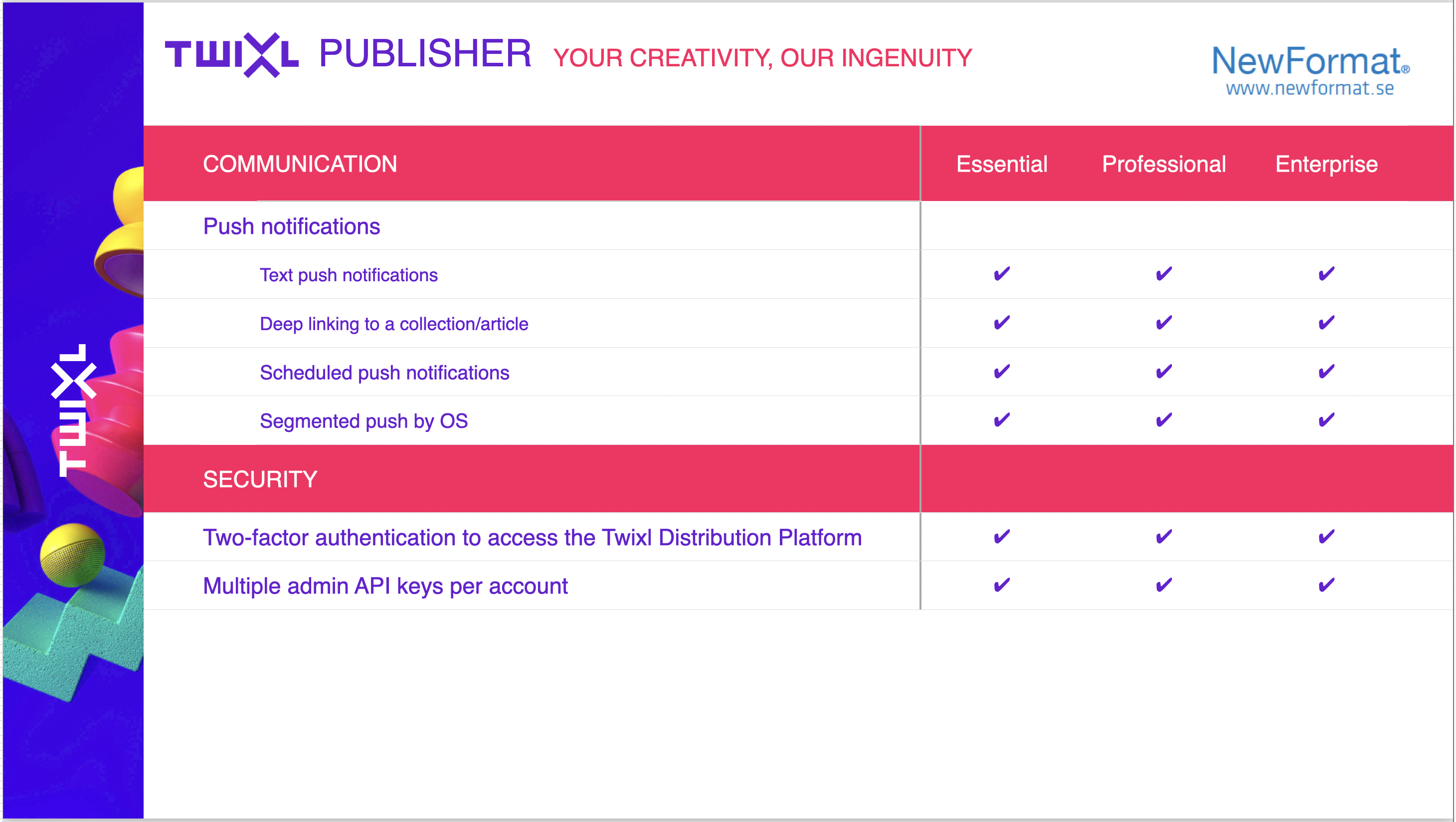 ---
Twixl Distribution Platform - Terms & Conditions
Terms & Conditions




Bandwidth

The Twixl Distribution Platform infrastructure uses the Microsoft Azure platform,
and has five different storage locations around the world.
In addition, it also relies on the Akamai CDN (Content Delivery Network)
to ensure optimal download speeds from any location worldwide.

Articles, collections and app setups are stored on Twixl media servers.
Every type of subscription comes with a yearly volume of bandwidth.

Essential plan for 1 app:
2 TB bandwidth/year & unlimited push notifications included


The volume of bandwidth available with
the Professional and Enterprise plan
will depend on the numbers of app needed
and the volume the customer expects to use.




Purchased bandwidth can be used per account and not per app.

Bandwidth included in the yearly subscription is valid for 1 year,
starting from the purchase date.
The remaining standard volume of bandwidth available in a subscription at
the expiration date will expire, but a new volume will be made available
in the new subscription.




Extra bandwidth

Extra Bandwidth available in quantities of 5 TB:

Upfront payment of extra bandwidth is required.

Extra purchased bandwidth remains valid as long as
the customer has an ongoing subscription at Twixl media.

Extra purchased bandwidth will only be used if the standard bandwidth
that is included in the subscription has been fully consumed.
Custom Storage / DIY (Do-It-Yourself) Storage

Only available with the Enterprise plan.

Requires your own Amazon S3 or Microsoft Azure storage account.

Other storage accounts are optional,
but require custom integration at an extra cost.

Only one type of storage is possible per account,
Twixl storage or Custom storage.
Disruption Policy

We expect to know, before the expiration date, from the customer,
or from the customer's partner, if customer wants to renew his subscription.

From there the customer will be invoiced immediately and we expect
payment by the expiration date of the actual subscription.

We can agree on a grace period of two weeks upon request.
After this term the service will be temporarily suspended
until we get the payment.

If we do not get a renewal order, or if we do not get the payment in time,
all services will be discontinued by the expiration date and
all apps on the account will stop working.
If the apps were deployed in the app stores users will still be able to
download them but the apps will not work.

Platform settings and files will be deleted 30 days after
the expiration date of the subscription.
During those 30 days the service can still be reactivated,
but the start date of the renewal will remain the end date
of the previous term.

Twixl do not terminate contracts before the contract period ends.
Bandwidth Policy

Customers will get a daily warning of the risk of bandwidth shortage from
the moment their account reaches 75% usage of the available bandwidth volume.

If a customer still runs out of bandwidth Twixl media will suspend all download services.
Apps will remain available in the app stores, the customer will still be able to create
apps and content and to publish this content, but users of the apps will not be able
to download the content.

If agreed between the customer and Twixl media or the reseller and Twixl media,
Twixl media can pre-finance extra purchased bandwidth that was not yet paid for.
A maximum payment delay of 7 days will be allowed.
---
Twixl Distribution Platform - Nice to Know



Nice to Know

Account vs Client

Every subscription on the Distribution Platform is linked to one account.
Subscribers of Twixl Publisher Professional and Enterprise are free to
handle as many apps and issues as they want per account.

Different types of users can be created on the Twixl Distribution Platform:

Administrator

Has full access to everything and all apps under that account,
both in the back end and in the App Reviewer.
You can create different Administrators,
but they will all have access to everything.



App Administrator

Has access to selected apps only,
both on the Twixl Distribution Platform and in the Twixl App Reviewer.
You can create different app Administrators per app,
each of them will have full access to the app they are entitled to.



App Reviewer

Can access selected apps in the Twixl App Reviewer app only
(i.e. has no access to the back end)



App Report Viewer

Can access the Reports (analytics) of selected apps on
the Twixl Distribution Platform.
Has no access to the Twixl App Reviewer app and
can't see any settings for the selected apps.
This profile can be used for a customer to provide access to his analytics.
App Reviewer access is available for article-based apps only.




Purchase vs Download number

Please note that the number of purchases for an issue (an in-app purchase)
as reported by iTunes Connect may differ from the number of downloads of
an issue as reported by the Twixl Distribution Platform.
The reason being that is that someone who purchases an issue
can download the same issue multiple times.
Also, if you are using direct entitlement, there will be downloads
from entitled customers that did not make an iTunes purchase.
---

Entitlement Pack Option
Twixl offers both built-in entitlement options as well as the ability to
integrate with your own entitlement server.

The entitlement feature provides the option to connect
your app content to a subscriber or user database.
It allows you to determine who gets access to which applications in your app
(restricted access or entitlement).

The built-in entitlement is included in the Essential plan.

Custom entitlement is only possible with the other plans.




Built-in entitlement options are:

Print subscribers


Users (& Groups) with restricted access


Access key


Promo code

A typical use case of Entitlement is to provide subscribers of a print magazine
with a login option to get free access to in-app purchase content.

Another use case is where access to the content in an app is based on
users and groups privileges, typically in an in-house (enterprise) app.




Entitlement in app store apps

Frequently publishers may want to provide print subscribers
with free access to otherwise paid content in an app.

Publishers can also offer their content to a specific audience and so
increase the value proposition and advertising value of their publication.

Obvious segmentation criteria are e.g. regional content,
language-specific content, etc.

Other entitlement options allow the use of e.g. an access key or
a promo code to claim free access to a particular content.




Entitlement in in-house apps

The special "Users & Groups" entitlement option is targeted at businesses
that deploy apps in-house either by distributing an app internally using
Apple's Developer Enterprise Program, or by publishing an app on
the App Store with "restricted access".

Some apps are only meant to target a closed group,
e.g. medical publications, reseller information, etc.

Using entitlement allows a business to publish to specific target groups
without making the content available to the public.
Only entitled users that the business has defined will be allowed access.

Different groups can be defined so that each group may have
access to different content.




Custom entitlement server (not possible with the Essential plan)

The Twixl Distribution Platform provides built-in support for a number of
specific use cases for entitlements, but integration with a custom (external)
entitlement server is also possible.

In most cases, integrating direct entitlement will require some
custom development to provide for the connection between
the Twixl Distribution Platform and the publisher's database of users/subscribers.

Within the Entitlement pack Twixl offers the Entitlement API to build a connection
between Twixl Distribution Platform and an external entitlement server.



---

Integration API Option
Twixl Publisher lets you integrate with different solutions for
automated production flows and so lets you push content to
the Twixl Distribution Platform and into your app.

The Integration API option allows you to integrate with
a number of solutions that Twixl support out of the box,
but using that same API, basically any type of CMS
could be setup to push content to the Twixl Distribution Platform.
Some custom development may be required to achieve this.

The CMS solutions that Twixl supports out of the box are:

The Integration API comes as on option to the Essentials plan
and it is included in the other plans.




If you need to integrate with WoodWing Studio
you will need to purchase a separate connector.



---

Automated Content Sources Option
Automated Content Sources let you pull content from
RSS feeds, YouTube channels and Vimeo Channels in your app.
This gives you the ability to enhance your app in a very easy yet valuable way.

You can define the collection where you want to add the feed,


You can define the cell style that will determine how
the feed will be displayed in the cell,


You can make a selection from a number of predefined templates
for styling the content of an imported RSS entry.


---

Custom Domain for the Browser Client Option
Standard browser client edition in HTML will be published on
Twixl servers within the Twixlmedia domain;
because it needs to access the content hosted on the Twixl Distribution Platform.

The custom domain feature lets you access this browser client
from a URL of your choice, like mymagazine.mydomain.com,
or to replace the generic url browserclient.twixlmedia.com
by a url of the company: browserclient.companya.com

To setup this custom domain on Twixl servers with a
Let's Encrypt SSL certificate, Twixl requests a one-time fee.

A custom domain is included in the Professional and Enterprise plan
and is an option in the Essential plan. Price of request.

As long as you have a subscription running at Twixl media this setup
will remain up and running and no extra cost will be invoiced.