New features in callas pdfaPilot 11:




callas software brings the best out of callas pdfaPilot

callas pdfaPilot product line implements important features
on request from customers and channel partners to
help them get the best out of pdfaPilot.

callas pdfaPilot 11 also builds on various new improvements
that callas software has implemented into callas pdfToolbox 13.


This major update has added new features and improved existing
features so users can take full advantage of PDF/A conversion.

callas pdfaPilot 11 now offers a unified concept for defining page areas
to harmonize configuration possibilities in Checks and Fixups,
especially regarding barcodes, creating and applying shapes,
link creation for texts, or setting page geometry boxes.

In the same way, the Switchboard has received various new actions,
such as the ability to unembed all fonts and resample documents to JPEG2000,
a new editor for font substitution policies has been added,
and reports in JSON are now possible.




Additional features

callas pdfaPilot 11 also contains a wide range of other features and fixups.

These include:

Editor for font substitution policies


Place individual text per page


Place text with font


Reorder pages


Resample to JPEG2000


Various (silent) repairs



---
New features in callas pdfaPilot 10.2:




Generate both print-ready and archive-ready files in one step

More and more of pdfaPilot customers are looking to
include multiple standards in a single PDF.

This makes it easier for files to comply with both standards simultaneously.
With the latest amendment to these standards,
PDF/X-6 and PDF/A-4 are now largely identical.

pdfaPilot now simultaneously converts files to PDF/X-6 for the printing industry
and PDF/A-4 for long-term archiving.

However, any organizations that have not yet adopted the latest version
of these standards can continue to use PDF/X-4 and PDF/A-2.



callas pdfaPilot Desktop Switchboard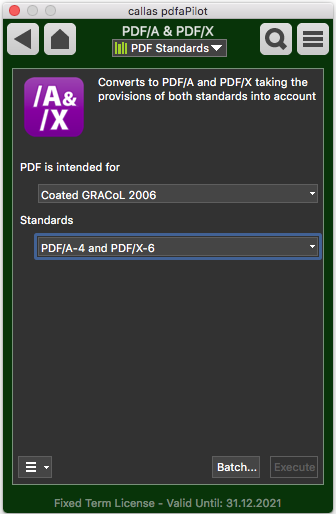 Converts simultaneously to both PDF/A and PDF/X
taking the provisions of both standards into account
Incorporate metadata into process automation

The graphical workflow editor was introduced in pdfaPilot 9
allowing users to automate PDF-based processes and create
even complex workflows with ease.

In pdfaPilot 10.2, callas software has now focused on
incorporating inspection of PDF metadata within a process plan.

Depending on the value of a given metadata field or fields,
specific actions can be triggered, whether by the metadata of
the document as a whole, or of a single object within it.




Improved conversion of form fields for PDF/A

Creating PDF forms has become much easier in recent years,
which has resulted in them seeing much broader use.

To handle these forms, organizations may use standard editors or bespoke
solutions that take into account various industry-specific requirements.

There is a demand for this kind of functionality and that automatic conversion
requires special procedures in order to avoid certain issues
that would otherwise come up regularly.
In pdfaPilot 10.2 several new features are integrated to make this
process easier and to offer a more complete functionality.
---
New features in callas pdfaPilot 10:




Support of PDF/A-4, PDF/X-6 and PDF/VT-3

Support of PDF/A-4, PDF/X-6 and PDF/VT-3 recently published by the ISO.




Integrated OCR

Integrated OCR from Tesseract




Further streamlined automated PDF processing

Numerous features that further streamline automated PDF processing,
whether interactively with the user or following pre-specified process rules.
callas pdfaPilot Desktop Switchboard
Full text recognition included

pdfaPilot version 10 includes an OCR engine from Tesseract
which can recognize over 100 languages.
With this, users can create fully Unicode-compliant (i.e. searchable) PDF files.
The standard edition of pdfaPilot's integrated OCR engine supports German and English.
Users can download and integrate any additional languages they need with ease.




Improved PDF/A-2u conversion

Another new feature is the tool's rule-based,
pre-defined process for converting files to PDF/A-2u (Unicode),
which now runs better than ever.

The background here is that PDFs often contain a few
non-Unicode-compliant characters such as bullet points.
If a file contains even one such character, it cannot be converted to PDF/A-2u.

Provided that the number of these characters does not exceed
a certain percentage specified by the user, pdfaPilot 10 will convert
them into vector objects that are no longer relevant to the text content,
but remain visible and readable.




pdfaPilot as a robotic process automation (RPA) application

Since the start of 2020, pdfaPilot has included a graphical editor
for creating and modifying process plans.
It allows users to easily design even complex workflows and
further automate PDF-based processes.

As a result, pdfaPilot can be used as an RPA application,
and its potential in this field has only grown with Version 10.
A new engine will find all bar, matrix and QR codes on a given page
and extract whatever content they contain.
These values can then be used to control other processes.

Users can insert DPart structures automatically according to prespecified rules,
which is helpful for RPA applications in output management.
Depending on the output system, this can result in very significant
performance improvements as page object caching is optimized.

The new QuickFix Engine integrated into pdfaPilot also enables
very fast PDF processing, as well as scaling, sorting and deleting pages.
The QuickFix Engine runs at almost the same speed regardless of
the size of the PDF - whether one page or half a million pages.

All fixes can now be created or configured entirely through a JavaScript interface.
This feature is particularly interesting for highly automated workflows
where pdfaPilot needs to react dynamically to incoming PDFs and
customize how they are processed based on prespecified rules.




Free powerful PDF tools included into callas pdfaPilot Desktop 10

No license activation or other obligations.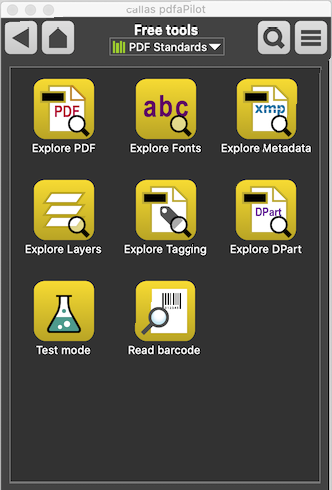 These powerful tools provide professional users and developers
with detailed insights into PDF files, including their internal structure,
the fonts and metadata used, and any DPart structures or tagging structures in place.

Users can even extract barcodes and QR codes,
and the "test mode" makes it possible to validate pdfaPilot profiles.



PDF tools included for free:

Explore PDF

This function provides an insight into the internal structure of a file,
offering a variety of views that reveal features like the content stream or
resources like fonts, ICC profiles and more.
Among other applications, the tool is useful for hunting down invalid PDF files.



Explore Fonts

This tool lets users analyze embedded fonts,
including their internal encoding or glyphs.




Explore Metadata

This tool can be used to output or export both
the metadata within a PDF document and
the metadata related to any images the document contains.



Explore Layers

The layer explorer shows a list of all layers within the document,
as well as their visibility setting.
It also supports metadata in line with the ISO standard on processing steps.



Explore Tagging

This tool visualizes a file's internal tagging structure and
elements like headings, paragraphs or image captions.



Display DPart metadata

This viewer identifies all DPart information
that applies to pages or page regions,
making it easier to set up automatic DPart-based processes.

See also callas pdfDPartner.



Extract Barcode and QR Codes

By analyzing barcodes and QR codes,
this tool delivers both the encoded data and
any parameters that are relevant for printing,
such as bar width reduction and module width.



Test Mode

This tool lets users test, improve and export
any pdfaPilot profile using any test file.
However, if the user does not have a license,
the output PDF file will no longer be available
once Test Mode is closed.




Download the trial version of callas pdfaPilot
and use these powerful PDF tools for free
without having to activate your license.
Additional features

pdfaPilot 10 also contains a wide range of other features.

These include:

Inserting PDFs and other files (e.g. Office)
as embedded files or additional pages


Reordering pages based on pre-specified rules


Automatically detecting and inserting web links using text search


Easily inking any object


Comparing PDF files