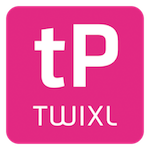 Twixl Publisher Workflow in 6 Steps
Takes Adobe® InDesign® and Adobe DPS Folio content to
tablets, smartphones and modern web browsers


---
New Publication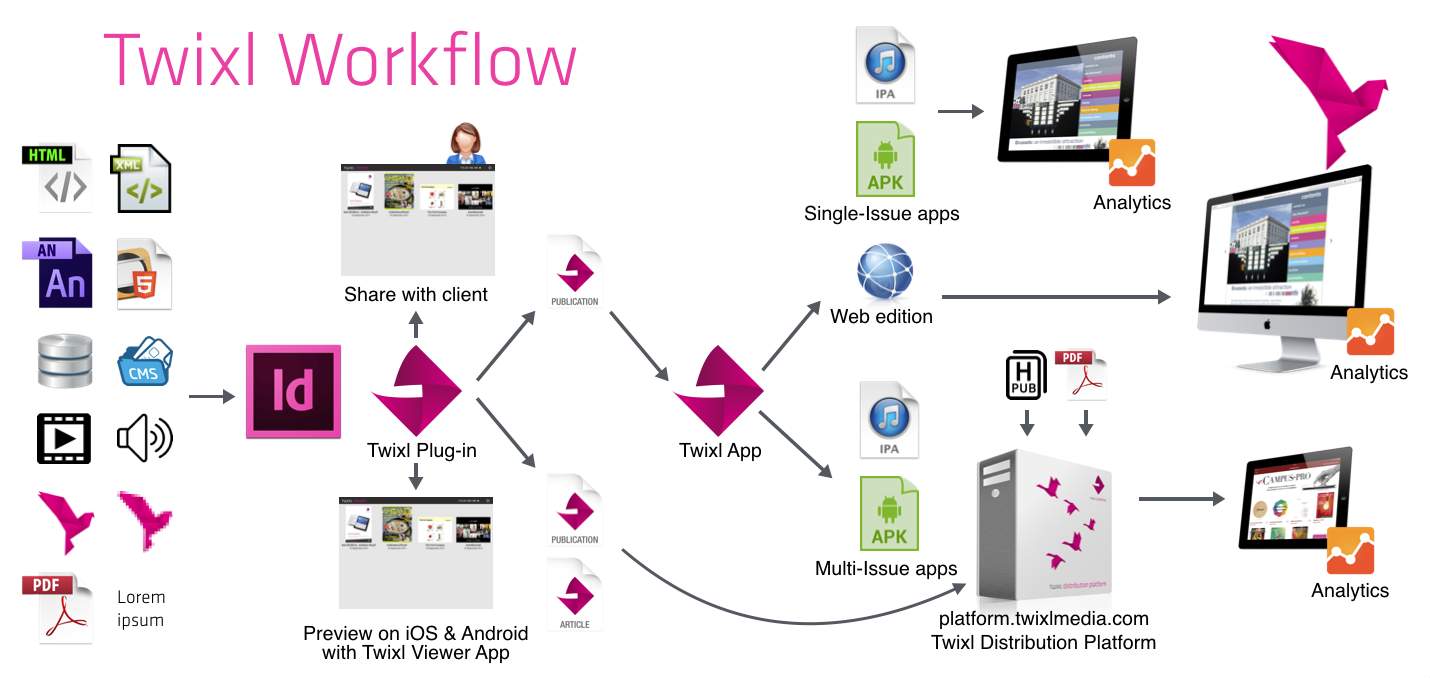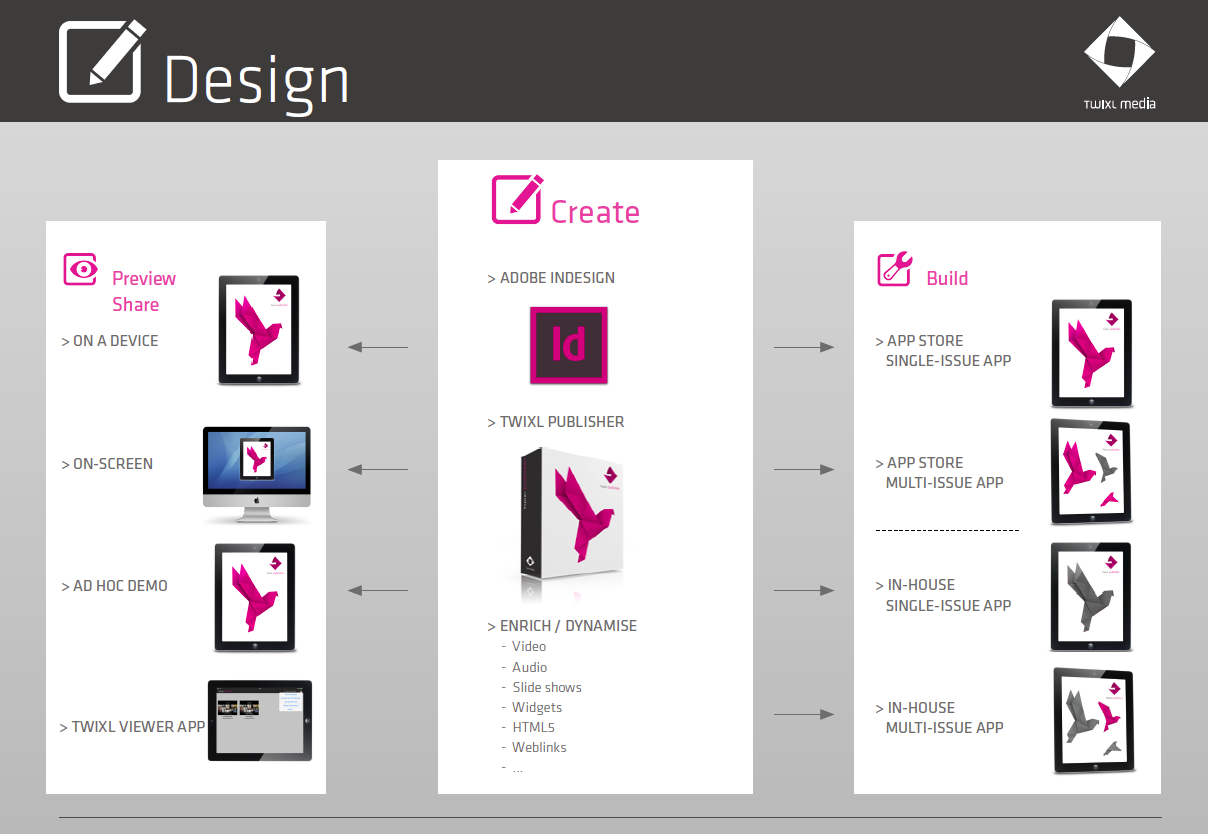 ---
0. Going from a different publishing tool to Twixl Publisher
App Migration Strategies
Migration of multi-issue kiosk apps that was created using a different publishing tool,
e.g. from Adobe DPS, Mag+, Aquafadas,... to Twixl Publisher.


App migration including the use of Twixl Importer - Step-by-step guide
---
1. Design and create your publication in Adobe InDesign CC/CS6
Design, create, test, preview, export articles and publications, build apps,... offline!

Online Internet connection not needed until you want to publish
the single-issue app or the issues in a Kiosk.

Design your publication, and start with a tablet layout of your choice, e.g. iPad landscape.
Manage all articles in your publication in an Adobe InDesign "book" file or
as separate articles for specific formats:


alternate layouts
portrait / landscape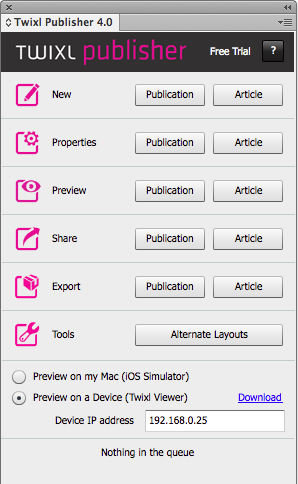 When you have finished creating your publication in one orientation and form factor,
you can add alternate layouts as required so that you can quickly create an iPad portrait version,
and optional 7" and 10" Android versions, based on the content in your original layout.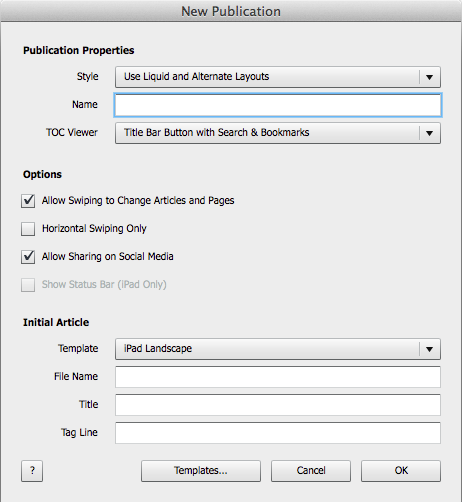 ---
2. Add interactive elements
The interactive options in the Twixl Publisher plug-in can be used to enrich your content:

add hyperlinks (page links or URL links)
add slide shows (with optional auto-play)
add audio
add video (embedded or streamed)
add scrollable and zoomable content
add buttons
create "web viewers" or "web overlays"
for integrating dynamic web content
(external or embedded HTML from Adobe Hype, Adobe Edge,..)
add HTML5-based animations in web viewers
add image sequences for 360° views
add panorama VR walkthroughs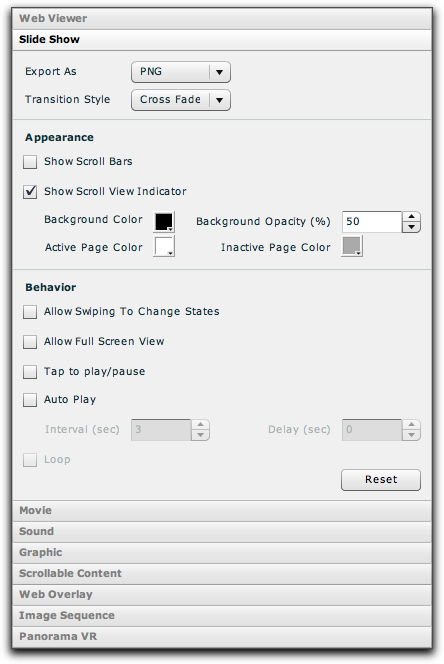 ---
3. Preview your publication in the iPad simulator or on a device on the local WiFi network
If you want a preview of your publication, you can either send it to

the iPad iOS simulator for previewing on your Mac screen, or to
an iPad or Android device on the same local WiFi network, using the free Twixl Viewer app.
---
4. Export the Adobe InDesign publication
The Twixl Publisher plug-in in Adobe InDesign exports all the articles (all pages/layouts) in your
Adobe InDesign publication (book) as a package. Slide show images are exported separately,
and audio, video, web and XML content resources are also added to the export package.

When using article-based workflows separate articles can be exported and later
assembled with the 'Publication Composer' in the Twixl Publisher Builder app.
---
5. Build the app with Twixl Publisher Builder
Build the app with the Twixl Publisher with the inbuilt Twixl Publisher Builder.
Use the exported Adobe InDesign content to preview or to create an "Ad Hoc" build
to install on your iPad or Android device outside of the App Store.

With Twixl Publisher Builder, it takes just a couple of clicks to convert
the Adobe InDesign exported content into


a ready-to-go iPad and/or Android app,
single or multi-issue apps,
"package" to add a new issue


For article-based workflows, separately exported articles can be assembled
into one single publication with the embedded Publication Composer.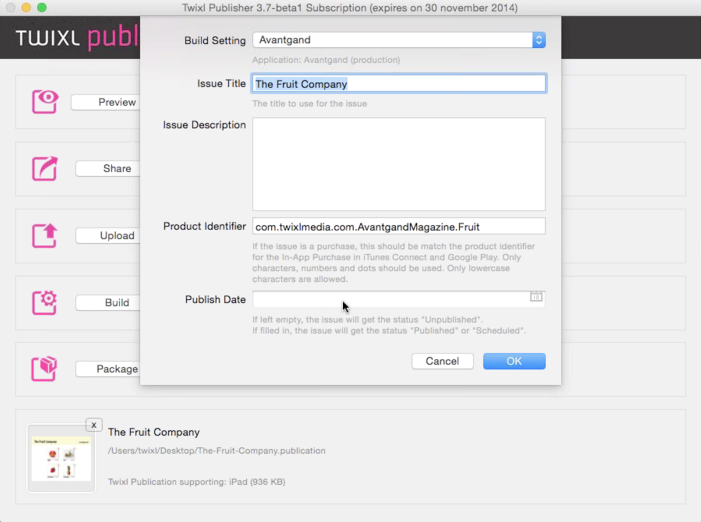 Twixl Web Reader - Web publishing for web (HTML) next to iOS, Android and Kindle Fire:

One creation process for two media formats - tablet and web - for publishers:
- Application for mobile device, Twixl Web Reader (HTML) for desktops and laptops.


Starts from a tablet format in Adobe InDesign with the aim to publish on a
desktop, laptop or even tablet in one click (no separate creation process needed).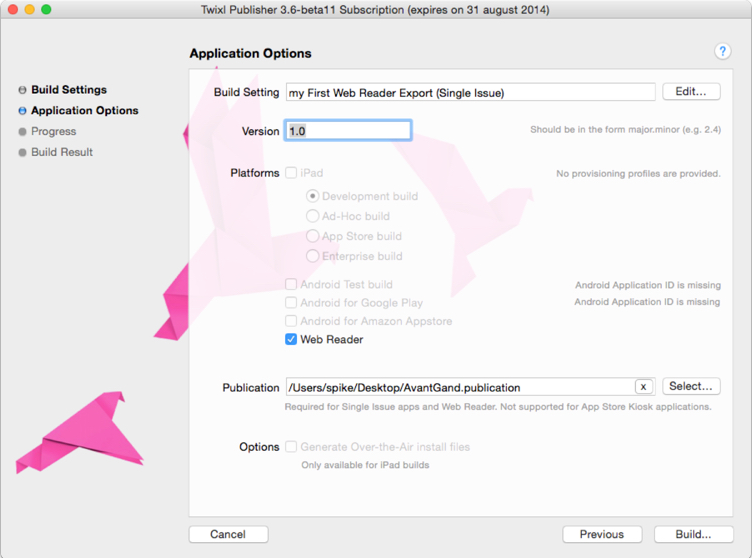 In Twixl Publisher Builder select "Web Reader" as export platform in addition to iPad/Android app.

Result will be a set of HTML files that can be placed on any web server.
The images are the same JPGs that are used for the tablet editions.



Render Twixl .publication files in a browser window:
Support for recent / latest editions of modern browsers
(Chrome, Safari, Internet Explorer, and Firefox).

Publication with enrichment is created in Adobe InDesign:
Support for all existing enrichment features (interactive and elements)
(with some limitations for nested interactivity).




DIY hosting is required / Customers have their own web hosting environment
(not integrated in the Twixl Distribution Platform).




Management of subscriptions on both media - mobile device and web -
is possible via the function 'Entitlement'.




Example: AvantGand,
Twixl Web Reader output - interactive and enriched content for any modern browser.


---
6. Publish / Distribute the app
Publish in App Stores (Public Publishing):


The most common method of app distribution is via one or more App Stores.
Once your app is ready, you can create an "App Store" build,
and then you can submit it to


iOS App Store
Google Play
Amazon Appstore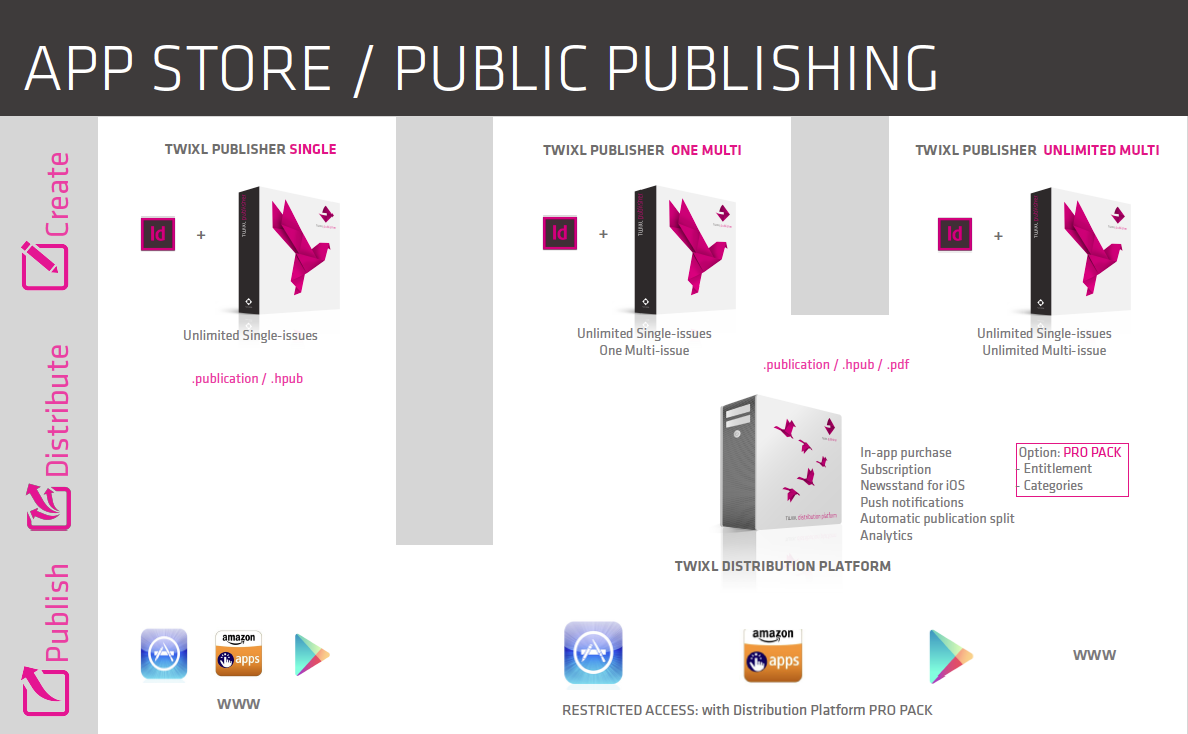 When having been reviewed/approved it will become available for everyone to download.
There are no extra fees associated with submitting a single-issue (standalone) app,
except for the registration fee for the different App Stores.
You can offer your app for free or as a paid app.
For paid apps, the providers take a fee (percentage of revenues).



Publicera för iOS i Apple App Store (Public Publishing)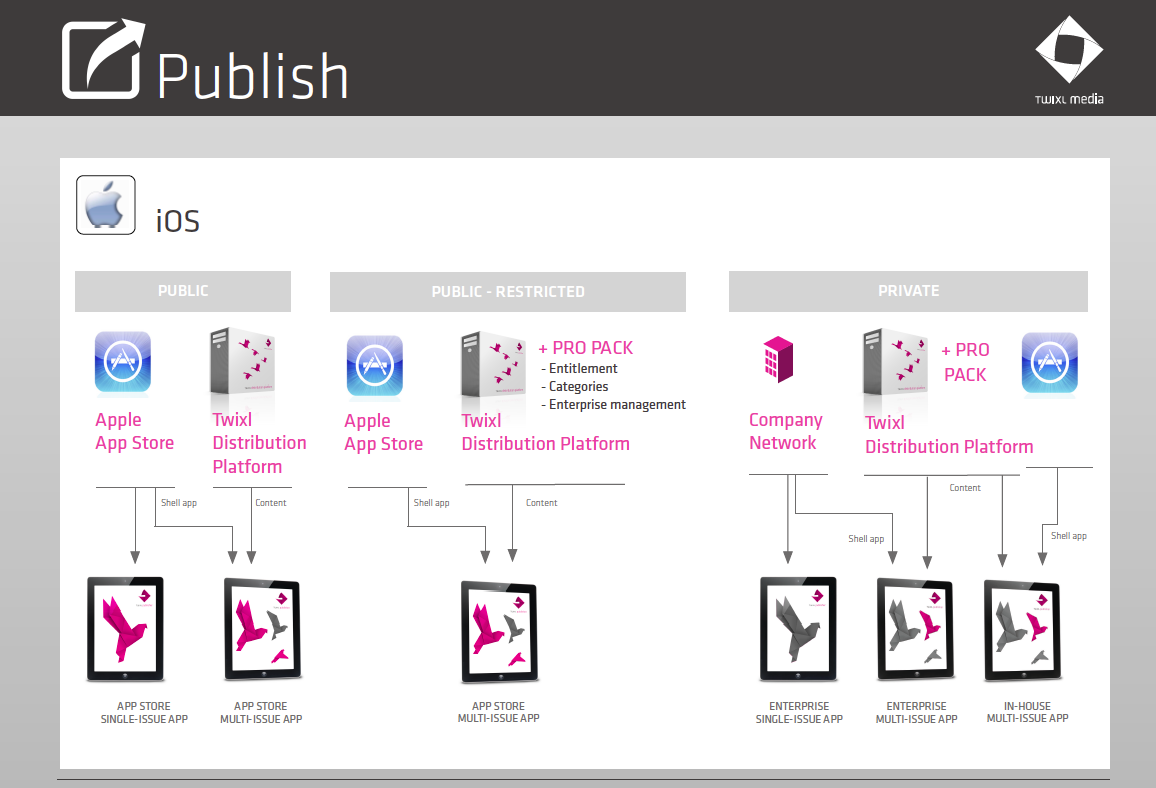 Publicera för Android i Google Play Store / Amazon Appstore (Public Publishing)