---

---


Part of NewFormat AB Portal

---
3D-archiving using PDF/A-3 and PDF/E-2, and 3D PDF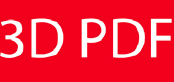 ---
Archiving of 3D Documents.



Background:

3D is a complex world of its own.
In order to create 3D models, 3D programs are needed, like Catia, AutoCAD, etc.
Each industry has their own set of preferred tools, solutions and document/file formats.

Basically there is not an agreed common exchange format between these tools
(i.e. not the same as the PDF format acts as a digital exchange format/"digital paper").

The first candidate as exchange format is the Universal 3D (U3D) file format,
now been followed by the Product Representation Compact ( PRC) file format
which is a forthcoming ISO standard, PDF/E-2 (planned for adoption in 2015,
but already well specified - not much expected to change before 2015 ).

Both formats can be embedded in PDF making it more user friendly,
especially considering that the free Adobe Reader software can be used
to see them or interact with these formats.

Once PDF/E-2 is established and started to be used it is likely that other and
more general tools will be available to handle certain format aspects,
such as syntax validation of 3D models, reading and writing metadata in 3D models, …



Recommendations on how to manage and archive 3D documents today.

First and foremost you have to clear out the format in which 3D information is present.
In what format are the 3D files; for instance, U3D or PRC format?

Next step is to decide on which PDF standard format to use to embed the 3D information
- PDF/A-3 or (upcoming) PDF/E-2:





PDF Archive Format.
PDF/A is an ISO Standard for long-term archiving with PDF.
The file format PDF/A-3 (ISO standard 2012) allows embedded attachments in PDF/A format or another format.
PDF/A-3 itself is just a container - however no guarantee (for reusability) for something that is embedded
but which is not itself PDF/A.




PDF Engineering Document Format.
PDF/E is an ISO Standard for representation constructions diagrams with moving 3D models where required.
It may also be interesting to look at the upcoming PDF/E-2 standard:
- PDF/E-2 makes it possible to mend 3D models in U3D or PRC formats inside PDF.
- PDF/E-2 is explicitly positioned as a standard for 3D archiving.




Summary



and/or

Options for archiving 3D documents today:



PDF/A-3

embedding PDF files with embedded 3D data



PDF/E-2

directly start using (standard assumed final in 2015)




In both cases it is recommended to focus on 3D in U3D or PRC formats inside PDF.
It can be done already today and is also well supported by the Adobe Acrobat product family.



---
News! May, 2018: 3D PDF - The Portable Document Format for Engineering



3D PDF is an interactive 3D Model embedded into an interactive PDF document


May 2018: Actual status and future of 3D PDF in terms of ISO:
Plans are to go from PDF/E-2 directly to PDF/A-4.



---
Source: Wikipedia


Universal 3D (U3D) File Format

Universal 3D (U3D) is a compressed file format standard for 3D computer graphics data.

The format was defined by a special consortium called 3D Industry Forum that brought
together a diverse group of companies and organizations, including Intel, Boeing, HP,
Adobe Systems, Bentley Systems, Right Hemisphere and others whose main focus
had been the promotional development of 3D graphics for use in various industries,
specifically at this time manufacturing as well as construction and industrial plant design.
The format was later standardized by Ecma International in August 2005 as ECMA-363.

The goal is a universal standard for three-dimensional data of all kinds, to facilitate data exchange.
The consortium promoted also the development of an open source library for facilitating the adoption of the format.
The library is also well known for having serious memory management issues.

The format is natively supported by the PDF format and 3D objects in U3D format
can be inserted into PDF documents and interactively visualized by Acrobat Reader (since version 7)



Product Representation Compact (PRC) File Format (an upcoming ISO standard).

PRC is a highly compressed format that facilitates the storage of different representations of a 3D model.

For example, you can save only a visual representation that consists of polygons (a tessellation),
or you can save the model's exact geometry (B-rep data).
Varying levels of compression can be applied to the 3D CAD data when it is converted to
the PRC format using the 3D PDF Converter plugin for Acrobat.

The 3D data stored in PRC format in a PDF is interoperable with
Computer-Aided Manufacturing (CAM) and Computer-Aided Engineering (CAE) applications.


---